At BE-CI, we've been around for over 30 years. Our talented team has consulted on countless projects for hurricane and storm damage repairs. We've worked with building owners who have made good decisions and ones who have made countless mistakes. These mistakes can be extremely costly, so here are some of the most common mistakes and how to avoid making them.
1. Don't Accept the Initial Insurance Claim
You want to get the most from your insurance claim, but insurance companies aren't in the business of handing out easy money. Adjusters work for insurance agencies; they don't work for you. Unfortunately, you have to fight to get the payment you deserve. We recommend walking through your site with your insurance adjuster to advocate for yourself and your claim.
Take the time to fight for payments for damages even if an adjuster says the storm didn't cause them. We see this happen all the time, and we have been able to help our clients get thousands of dollars added to their damage claims by simply taking on some oversite.
You have to know your stuff to do this well, but the payout can be extensive.
2. Don't Hire an Unknown Contractor
Hiring quality contractors is vital when it comes to getting a project done correctly and efficiently. Sadly, there is an entire sub-group of "storm chaser" contractors who take advantage of unsuspecting building owners in times of crisis. This issue has gotten so bad that governors have passed legislation in certain states to try to protect owners from these predatory practices.
Do your best to properly vet all contractors, especially when it comes to your roof. Find out if they are local or out of state. Make sure they have a license to service your area. The best way to find one you can trust is to get a referral. Top contractors may not be immediately available due to the high-volume need after a storm, but waiting for a good one is a better option than choosing someone unreliable who may stop halfway through.
For example, at BE-CI, we have worked to establish relationships with honest and talented contractors to refer to our clients. Our vetted contractor connections are extremely valuable assets and help our clients move their projects along smoothly.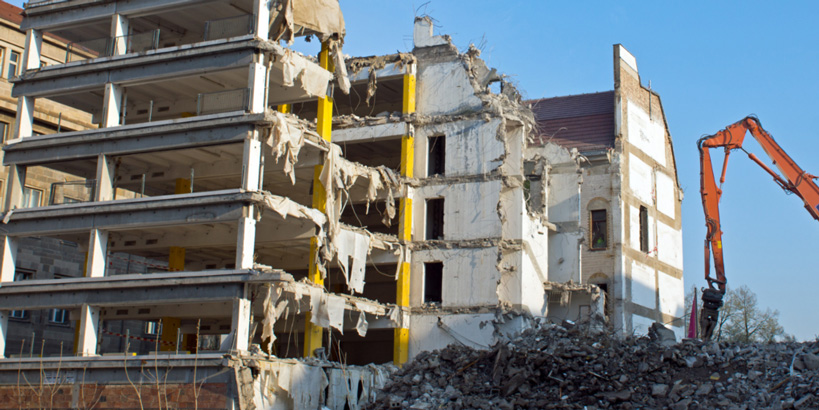 3. Don't Make Storm Damage Repairs You'll Quickly Have to Replace
Every repair you make has costs and benefits. Some repairs may last, and some may decay and cause a risk of further damage in the future. Don't simply pick a repair solution based on quick availability, a cheap price, a charismatic salesman, or your gut.
Analyze each purchase you make with an eye for how much maintenance may cost or how quickly something will need to be replaced.
Make intentional decisions backed up by solid facts and understanding and a holistic view of your building and your financial goals. This attitude is important at all times, but it can be difficult to remember in the aftermath of a storm.
4. Don't Rush the Process
We encourage our clients to have a realistic timeline when it comes to storm damage repairs.
One of the biggest mistakes building owners make is moving too quickly. After a storm, tensions are high, and the damages need immediate attention. Unfortunately, you won't be able to have everything in your building back at 100% within a short timeframe. Realistic timelines can, unfortunately, be as long as 6 months.
Anyone (a contractor etc.) who promises you something quick and easy may just be out to make a quick buck and isn't interested in helping you make solid fixes that will last. Even though it will take time before everything is back to what it was before the storm, this can be a good time to reevaluate your building decisions and set up a more solid plan for the future.
Final Thoughts
We hope this helps you tackle the complicated task of storm damage repairs. Have you experienced severe damage to one or more of your buildings from a recent hurricane in the gulf? Do you need someone to partner with you so you can avoid these mistakes?
Schedule some time with us, and we can help. We can even set you up with a completely free damage assessment!
We offer the service mentioned above as well as the following to help you after a storm: